Spinach/Artichoke Pizza
NOTE: THE ORIGINAL PHOTO FROM THIS STORY HAS BEEN REPLACED BECAUSE IT WAS APPARENTLY SCARING SMALL CHILDREN. PLEASE ENJOY THIS PICTURE OF LEGENDARY COMEDIAN SOUPY SALES INSTEAD.
Just what is this glorious mess, you ask? This is a photo of two pieces from our execution of the Spinach and Artichoke pizza in the April 2004 Food and Wine (p.64). We used a crust from the Moosewood series of cookbooks (Moosewood Restaurant New Classics) and made three too-large pizzas instead of four just-rights.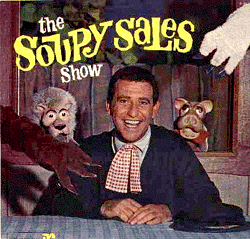 Follow those links and make this recipe.
The pizzas were light and filling all at once. Leftovers went home with our guest and stayed here with us. My wife even threatened me with fates unknown if I stole her leftover piece. Ah, she'll never know...
Posted by Barrett in Maryland at May 1, 2004 8:29 PM |
TrackBack